BrayTech Winter Wolf
From Destiny 2 Wiki
BrayTech Winter Wolf is a Legendary Auto Rifle.

Perks - Curated Roll
Intrinsic
Precision Frame - This weapon's recoil pattern is more predictably vertical.
Sight / Barrel
Hammer-Forged Rifling - Durable ranged barrel.
Fluted Barrel - Ultra-light barrel.

Greatly increases Handling Speed.
Slightly increases Stability.

Chambered Compensator - Stable barrel attachment.

Increases Stability.
Improves Recoil Direction.
Slightly decreases Handling Speed.
Magazine / Battery
Armor-Piercing Rounds - Rounds cause extra damage to shields and overpenetrate targets.

Slightly increases Range.

Tactical Mag - This weapon has multiple tactical improvements.

Slightly increases Stability.
Slightly increases Reload Speed.
Slightly increases magazine size.
Trait
High-Impact Reserves - Rounds at the end of the magazine deal more damage.
Zen Moment - Causing damage with this weapon increases its stability. Improves base stability.
Mods
How to Obtain
Found in Warmind Engrams obtained from Sleeper Nodes on Mars.
Notes
The default shader for this armor piece appears to be the Bray Innovation shader.
Lore
HFU TEST REPORT WINTER WOLF APD
CL: 2.33.472116
Modifications from CL 2.33.390160 show significant improvements to heat dispersion along weapon barrel. Thermal strain reduced by 17% with negligible impact to weapon effectiveness. RSPTN hash: A7732Ke2142Oe201-87TUI28592PU49-70291BT4yY893-5LeY3257u3R 1 Warning(s): Potential unauthorized tampering of Hephaestus Test Unit (69N, 205E). Test results not compromised.
Images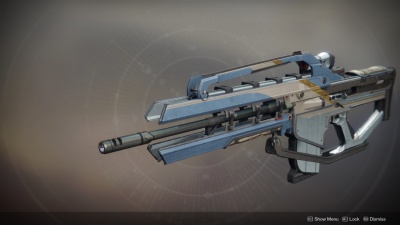 Related Links
---