Beidenhander
From Destiny 2 Wiki

Beidenhander is a Legendary Submachine Gun.


Perks - Curated Roll
Intrinsic
Precision Frame - This weapon's recoil pattern is more predictably vertical.
Sight / Barrel
SC Holo - Hakke holo sights. Medium zoom.

Greatly increases range
Slightly decreases handling speed

SD Thermal - Hakke thermal imaging scope. Medium zoom. Highlights enemy targets.
Magazine / Battery
Extended Mag - This weapon has a greatly increased magazine size, but reloads much slower.

Greatly increases magazine size.
Greatly decreases Reload Speed.

High-Caliber Rounds - Shots from this weapon knock the target back farther.

Slightly increases Range.
Trait
Ambitious Assassin - Greatly overflows the magazine based on the number of defeated targets before reloading.
Mods
How to Obtain
Notes
Images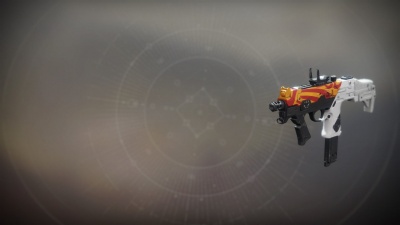 Related Links
---