Baligant
From Destiny 2 Wiki
Baligant PvP Stats
Optimal Time-to-Kill
45s
Optimal Kill
80
Body Shot Time-to-Kill
s
Body Shots to Kill
28
Crit Damage
30
Body Damage
0
Time Between Shots
1.33s
"s" is not a number.
Baligant is a Legendary Shotgun.


Perks - Curated Roll
Intrinsic
Sight / Barrel
Full Choke - Tightened barrel. Reduces projectile spread when aiming down sights at the cost of precision damage.
Rifled Barrel - Ranged shotgun barrel.

Increases range
Greatly decreases handling speed
Magazine / Battery
Steady Rounds - This magazine is optimized for recoil control.

Greatly increases Stability.
Slightly decreases Range.

Flared Magwell - Optimized for fast reloading.

Slightly increases Stability.
Greatly increases Reload Speed.
Trait
How to Obtain
Detailed explanation on how to acquire Baligant
Notes
The default shader for this weapon appears to be a worn version of the Hakke Camo shader.
Tests against Legionaries suggest that this weapon fires 12 pellets per shot.
Baligant was a Power weapon during Seasons 1-3.
Images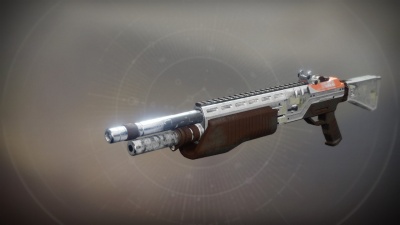 Related Links
---