Allegro-34
From Destiny 2 Wiki
Acquisition

Earned while leveling.

Allegro-34 is a Rare Hand Cannon.
Perks - Curated Roll
Intrinsic
Sight / Barrel
SteadyHand HCS - Stable Hand Cannon sight.

Increases Stability.
Increases Handling Speed.

TrueSight HCS - Balanced Hand Cannon sight.

Slightly increases range.
Slightly increases stability.
Slightly increases handling speed.
Magazine / Battery
Ricochet Rounds - Rounds ricochet off hard surfaces.

Increases Stability.
Slightly increases Range.
Trait
Opening Shot - Improved accuracy and range on the opening shot of attack.
Mods
How to Obtain
Decoherent Engrams, Drops
PvP Profile
Notes
The default shader for this weapon appears to be a worn version of the Dead Zone Bark shader.
Images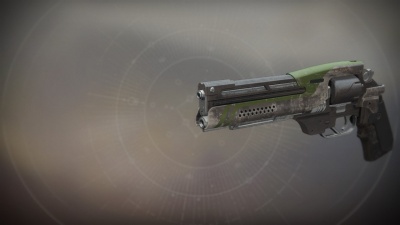 Related Links
---