Subzero Salvo
From Destiny 2 Wiki
Acquisition

Found exploring Europa.

Subzero Salvo
is a
Legendary
Rocket Launcher
.
Perks - Curated Roll
Intrinsic
Precision Frame - This weapon's recoil pattern is more predictably vertical.
Sight / Barrel
Hard Launch - This weapon's launch barrel is optimized for projectile speed.

Greatly increases projectile speed
Decreases stability
Slightly decreases blast radius
Magazine / Battery
Trait 1
Ambitious Assassin - Overflows the magazine based on the number of rapid kills before reloading.
Trait 2
Demolitionist - Kills with this weapon generate grenade energy. Activating your grenade ability reloads this weapon from reserves.
Perks - Random Rolls
Intrinsic
Possible Sight / Barrel
Possible Magazine / Battery
Possible Trait
How to Obtain
Detailed explanation on how to acquire Subzero Salvo
Notes
Lore
Images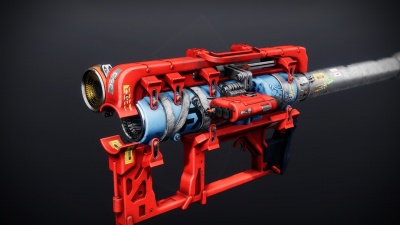 Related Links
---