Dissonance-34
From Destiny 2 Wiki
Acquisition

Earned while leveling.

Dissonance-34 is a Rare Sidearm.
Perks - Curated Roll
Intrinsic
Rapid-Fire Frame — Full Auto. Deeper ammo reserves. Slightly faster reload when magazine is empty.
Sight / Barrel
Shortspec SAS - Balanced Sidearm sight.

Slightly increases stability
Slightly increases handling speed
Slightly increases range

Tactic SAS - Accurate Sidearm sight.

Slightly increases Range.
Magazine / Battery
Ricochet Rounds - Rounds ricochet off hard surfaces.

Increases Stability.
Slightly increases Range.
Trait
Moving Target - Increased movement speed and target acquisition when moving while aiming down sights.
Mods
How to Obtain
Decoherent Engrams, Drops
PvP Profile
Notes
The default shader for this weapon appears to be a worn version of the Dead Zone Bark shader.
Images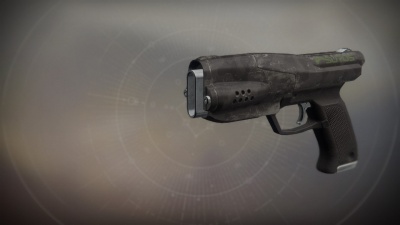 Related Links
---