Apex Predator
From Destiny 2 Wiki
Apex Predator is a Legendary Rocket Launcher.

Perks - Curated Roll
Intrinsic
Sight / Barrel
Quick Launch - This weapon's barrel provides faster projectiles and much faster aiming.

Greatly increases handling speed
Increases projectile speed
Magazine / Battery
High-Velocity Rounds - This weapon's projectiles are particularly light and quick. Increases projectile speed.
Trait 1
Trait 2
Perks - Random Rolls
Intrinsic
Possible Sight / Barrel
Possible Magazine / Battery
Possible Trait 1
Tracking Module - Adds tracking capability to rockets. Locks onto targets when aiming down sights. Increases blast radius.
Genesis - Breaking a combatant's shield with this weapon fills its magazine from reserves. Energy weapons regenerate ammo on hit when matching the damage type to the combatant's shield.
Ambitious Assassin - Greatly overflows the magazine based on the number of defeated targets before reloading.
Possible Trait 2
Kill Clip - Reloading after defeating a target grants increased damage for an improved duration.
Auto-Loading Holster - The holstered weapon is automatically reloaded after a short period of time.
Snapshot Sights - Faster time to aim down sights. Stability is increased.
Mods
Empty Mod Socket: Boss Spec, Counterbalance Stock, Freehand Grip, Icarus Grip, Major Spec, Minor Spec, Radar Tuner, Taken Spec, Targeting Adjuster, Radar Booster, Sprint Grip, Rampage Spec, Dragonfly Spec, Surrounded Spec, Quick Access Sling
How to Obtain
Notes
Lore
Images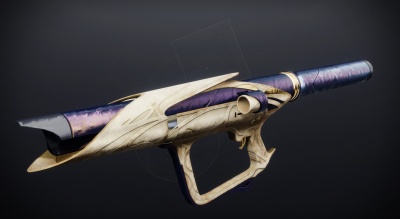 Related Links
---