Pit Launcher
From Destiny 2 Wiki

Pit Launcher is a Legendary Rocket Launcher.


Perks - Curated Roll
Intrinsic
Sight / Barrel
Hard Launch - This weapon's launch barrel is optimized for projectile speed.

Greatly increases projectile speed
Decreases stability
Slightly decreases blast radius

Countermass - This weapon is weighted for vertical recoil.

Greatly controls recoil
Increases stability
Increases handling speed

Quick Launch - This weapon's barrel provides faster projectiles and much faster aiming.

Greatly increases handling speed
Increases projectile speed
Magazine / Battery
High-Explosive Ordnance — This weapon's projectiles are larger and travel faster.

Increases blast radius
Slightly increases projectile speed
Decreases magazine size

High-Velocity Rounds - This weapon's projectiles are particularly light and quick. Increases projectile speed.
Trait
Mods
How to Obtain
Detailed explanation on how to acquire Pit Launcher
Notes
Images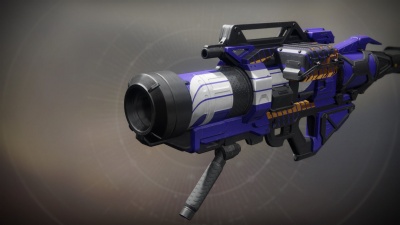 Related Links
---