No Turning Back
From Destiny 2 Wiki
No Turning Back is a Legendary Combat Bow.

Perks - Curated Roll
Intrinsic
Precision Frame - This weapon's recoil pattern is more predictably vertical.
Bowstring
High Tension String — Tightly strung bow.

Increases accuracy
Slightly slower draw time
Slightly decreases stability
Arrow
Trait 1
Trait 2
Hip-Fire Grip - Increases accuracy, stability, and precision hit targeting when firing from the hip.
Mods
Empty Mod Socket: Anti-Barrier Ranger, Unstoppable Arrows, Boss Spec, Counterbalance Stock, Freehand Grip, Icarus Grip, Major Spec, Minor Spec, Radar Tuner, Taken Spec, Targeting Adjuster, Radar Booster, Sprint Grip, Rampage Spec, Dragonfly Spec, Surrounded Spec, Quick Access Sling
How to Obtain
Notes
Precision Frame indicates that this weapon is a compound bow, having a long draw time but high damage. Shots can be cancelled after the bow is fully drawn.
Lore
Images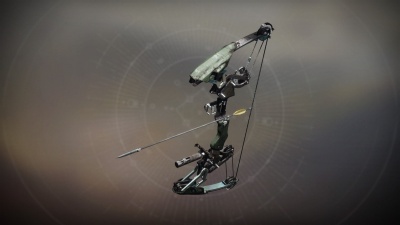 Related Links
---