IKELOS-SG-v1.0.1
From Destiny 2 Wiki
IKELOS-SG-v1.0.1
is a
Legendary
Shotgun
. (Due to wiki limitations, the underscores in the name are represented here by hyphens.)
Perks
Intrinsic
Rapid-Fire Frame - Deeper ammo reserves. Slightly faster reload when magazine is empty.
Barrel 1
Barrel 2
Trench Barrel - After a successful melee hit, the weapon gains increased damage, accuracy, and handling -- within stricter damage falloff -- for a short time.
Magazine
Tactical Mag - This weapon has multiple tactical improvements.

Slightly increases Stability.
Slightly increases Reload Speed.
Slightly increases magazine size.
Trait
Moving Target - Increased movement speed and target acquisition when moving while aiming down sights.
Threat Detector - Increased reload, stability, and handling when enemies are in close proximity.
Notes
This weapon, like other non-SUROS Shotguns, likely fires 12 pellets per shot.
Images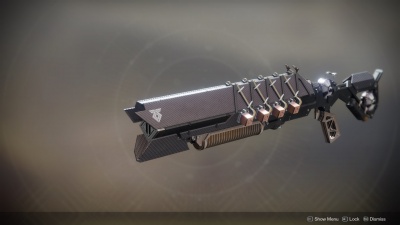 Related Links
---