Courageous Surrender
From Destiny 2 Wiki
Courageous Surrender is a Legendary Grenade Launcher.
Perks - Curated Roll
Intrinsic
Rapid-Fire Frame - Deeper ammo reserves. Slightly faster reload when magazine is empty.
Sight / Barrel
Volatile Launch - This weapon is optimized for an especially explosive payload.

Greatly increases Blast Radius.
Slightly decreases Handling Speed.
Slightly decreases projectile speed.

Smart Drift Control — This barrel is broadly optimized for firing control.

Moderately controls recoil
Increases stability
Increases handling speed
Slightly increases projectile speed

Confined Launch - This weapon's launch parameters are particularly stable.

Greatly increases Stability.
Increases Blast Radius.
Decreases projectile speed.
Magazine / Battery
Spike Grenades - Grenades fired from this weapon do increased damage on direct hits.
High-Velocity Rounds - This weapon's projectiles are particularly light and quick. Increases projectile speed.
Trait
Quickdraw - This weapon can be drawn unbelievably fast. Handling is improved.
Notes
The default shader appears to be a worn version of the Tidal Hope shader.
Images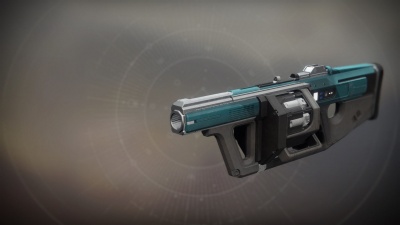 ---