BrayTech Osprey
From Destiny 2 Wiki
BrayTech Osprey PvP Stats
BrayTech Osprey
is a
Legendary
Rocket Launcher
.
Perks - Curated Roll
Intrinsic
Sight / Barrel
Magazine / Battery
Trait 1
Trait 2
Origin Trait
Perks - Random Rolls
Intrinsic
Possible Sight / Barrel
Possible Magazine / Battery
Possible Trait 1
Possible Trait 2
Possible Origin Trait
How to Obtain
Detailed explanation on how to acquire BrayTech Osprey
Notes
Lore
Expected Use Timeframe: UNKNOWN.
"Did you find anything strange about the latest Warmind hashes?"
"Not really. What's the issue?"
"Something just seems off. What kind of enemy is this intended for?"
"Isn't that the whole point of the Warmind? It knows better than we do. We just do what it tells us to do."
"And you're okay with that?"
"Heck yeah! My job's never been easier. I have more time for the kids."
"Take this seriously. We're building weapons here, not toys."
"You worry too much."
Images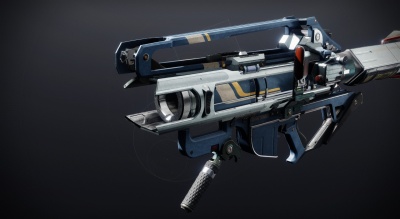 Versions
---