Zephyr (Season 2)
From Destiny 2 Wiki
Zephyr (Season 2) PvP Stats
Perks - Curated Roll
Intrinsic
Adaptive Frame - [Heavy Attack]  : Launch a heavy uppercut attack.

Heavy attacks are stronger with full energy.
Blade
Jagged Edge - Increased damage at the cost of sword ammo.
Enduring Blade - Greatly increased sword ammo at the cost of damage.
Guard
Trait
Whirlwind Blade - Consecutive rapid sword strikes increase this weapon's damage output.
Mods
Notes
Lore
Snow Leopard paces before his hoard.
Panther's footfalls do not exist.
He looks over his shoulder.
She is not seen.
He whirls, claw and fang.
She is already past.
His blade drops.
She is not fooled.
His teeth are razors.
Her blade is sharper.
His blade is on her.
She is not there.
His blood is up.
Her blood is ice.
His blood colors the ground.
She moves to finish him.
He smiles after his strike is true.
She hisses.
He roars.
She slows, warmth and languor.
He jerks, chill and agita.
She brings the gale, hot and fierce.
He is still, until the next winter.
Images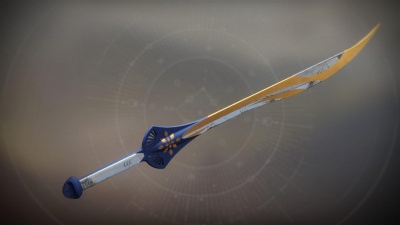 Versions
---