Veleda-D
From Destiny 2 Wiki
Veleda-D PvP Stats
Crit Damage
394
Body Damage
158
Time Between Shots
0.83s
Veleda-D
is a
Legendary
Sniper Rifle
.
Perks - Curated Roll
Intrinsic
Sight / Barrel
ATD Raptor - Standard sniper scope. Medium zoom. Highlights enemy targets.

Increases range
Slightly increases handling speed

ATA Scout - Light sniper scope. Short zoom.

Slightly increases range
Greatly increases handling speed
Magazine / Battery
Ricochet Rounds - Rounds ricochet off hard surfaces.

Increases Stability.
Slightly increases Range.

Alloy Magazine - Faster Reload when the magazine is empty.
Trait
Quickdraw - This weapon can be drawn unbelievably fast. Handling is improved.
How to Obtain
Detailed explanation on how to acquire Veleda-D
Notes
The default shader for this weapon appears to be a worn version of the Hakke History shader.
Images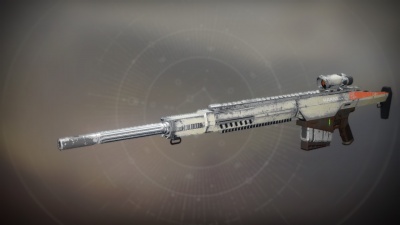 Related Links