Man o' War
From Destiny 2 Wiki
Man o' War PvP Stats
Crit Damage
203
Body Damage
135
Man o' War
is a
Legendary
Linear Fusion Rifle
.
Perks - Curated Roll
Intrinsic
Precision Frame - This weapon's recoil pattern is more predictably vertical.
Sight / Barrel
Fluted Barrel - Ultra-light barrel.

Greatly increases Handling Speed.
Slightly increases Stability.

Polygonal Rifling - Barrel optimized for recoil reduction.
Corkscrew Rifling - Balanced barrel.

Slightly increases Range and Stability.
Slightly increases Handling Speed.
Magazine / Battery
Trait
Moving Target - Increased movement speed and target acquisition when moving while aiming down sights.
How to Obtain
PvP Profile
Notes
The default shader for this weapon appears to be a worn version of the New Pacific Rush shader.
The name of the weapon references a creature called a Portuguese man o' war which has stinging tentacles like those of a jellyfish.
Images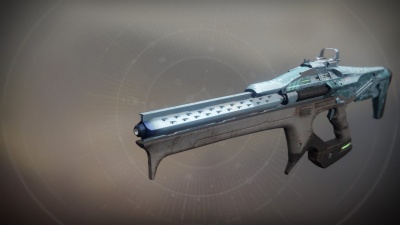 Patch History
References