Gravity Slingshot
From Destiny 2 Wiki
Gravity Slingshot PvP Stats
Time Between Shots
1.33s
Gravity Slingshot
is a
Legendary
Shotgun
.
Perks - Curated Roll
Intrinsic
Sight / Barrel
Barrel Shroud - Balanced shotgun barrel.

Increases stability
Increases handling speed

Smoothbore - Smooth shotgun barrel. Greatly increases Range at the cost of more projectile spread.
Rifled Barrel - Ranged shotgun barrel.

Increases range
Greatly decreases handling speed
Magazine / Battery
Accurized Rounds - This weapon can fire longer distances.
Tactical Mag - This weapon has multiple tactical improvements.

Slightly increases Stability.
Slightly increases Reload Speed.
Slightly increases magazine size.
Trait
Field Prep - Greatly increased ammo reserves. Improved faster reload, stow, and ready when you're crouching.
How to Obtain
Detailed explanation on how to acquire Gravity Slingshot
Notes
The default shader for this weapon appears to be a worn version of the Dead Orbit's Fate shader.
Images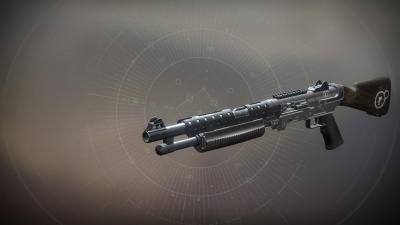 Related Links