Quitclaim Shotgun III
From Destiny 2 Wiki
Quitclaim Shotgun III PvP Stats
Quitclaim Shotgun III
is a
Legendary
Shotgun
.
Perks - Curated Roll
Intrinsic
Sight / Barrel
Rifled Barrel - Ranged shotgun barrel.

Increases range
Greatly decreases handling speed

Smoothbore - Smooth shotgun barrel. Greatly increases Range at the cost of more projectile spread.
Fluted Barrel - Ultra-light barrel.

Greatly increases Handling Speed.
Slightly increases Stability.
Magazine / Battery
Flared Magwell - Optimized for fast reloading.

Slightly increases Stability.
Greatly increases Reload Speed.

Assault Mag - This shotgun's magazine is optimized for quick combat.

Greatly increases Stability.
Increases Rate of Fire.
Trait
Field Prep - Increased ammo reserves. Faster reload when crouched.
Mods
How to Obtain
Possible reward from New Monarchy Engrams starting with the third Season 2 Faction Rally (begins March 20th).
PvP Profile
Notes
Images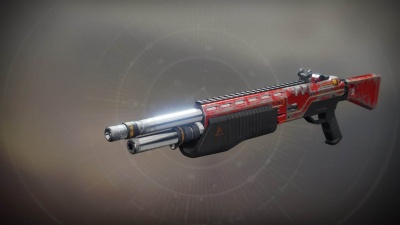 Related Links