Bushwhacker
From Destiny 2 Wiki
Bushwhacker
is an item that was removed from Destiny 2 prior to release and is not currently obtainable.
Perks - Curated Roll
Intrinsic
Precision Frame - This weapon's recoil pattern is more predictably vertical.
Sight / Barrel
Quick Launch - This weapon's barrel provides faster projectiles and much faster aiming.

Greatly increases handling speed
Increases projectile speed

Linear Compensator - This weapon's launch barrel is well-balanced.

Slightly increases projectile speed
Slightly increases blast radius
Slightly increases stability
Magazine / Battery
Alloy Casing - Reduces weight for faster reloads.

Greatly increases Reload Speed.
Decreases Stability.

High-Velocity Rounds - This weapon's projectiles are particularly light and quick. Increases projectile speed.
Trait
Firmly Planted - Increased accuracy, Stability, and Handling when firing while crouched.
How to Obtain
Detailed explanation on how to acquire Bushwhacker
Notes
This weapon cannot currently be obtained.
Images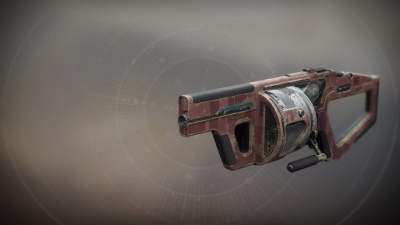 Related Links