Xûr's Treasure Hoard
From Destiny 2 Wiki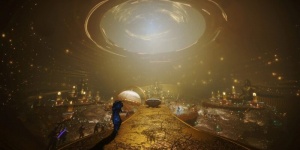 Xûr's Treasure Hoard is a destination added to Eternity for Bungie's 30th Anniversary Event. It features daily and weekly bounties, as well as two quests.
Overview
Players can access the Treasure Hoard through the Director Menu. Here, they can access daily and weekly bounties given by both Xûr and Starhorse, as well as their goods in exchange for Strange Coins. Players can also access treasure chests with the use of Strange Keys, which reward gear and weapons.
Quests
To the Daring Go the Spoils
And Out Fly the Wolves
Bounties
Xûr offers four daily Bounties:
Starhorse offers five daily Bounties and one weekly Bounty:
Pulse of Combat
Laser Tag
Double Barrel
Old-Fashioned Way
bring the Overkill
Match Game (Weekly)
Wares
Xûr and Starhorse both have various wares that can be exchanged for Strange Coins. Players can also obtain Triumph rewards from both of them.