Eternity's Edge
From Destiny 2 Wiki
Eternity's Edge PvP Stats
Eternity's Edge
is a
Legendary
Sword
.
Perks - Curated Roll
Intrinsic
Vortex Frame — [Heavy Attack]  : Launch a heavy spin attack.

Heavy attacks are stronger with full energy.
Blade
Guard
Infinite Guard — Sword Guard has balanced defenses and maximized endurance.
Trait 1
Thresh - Killing combatants with this weapon generates a small amount of Super energy.
Trait 2
Whirlwind Blade - Consecutive rapid sword strikes increase this weapon's damage output.
Perks - Random Rolls
Intrinsic
Possible Guard
Possible Trait
How to Obtain
Detailed explanation on how to acquire Eternity's Edge
Notes
Lore
Images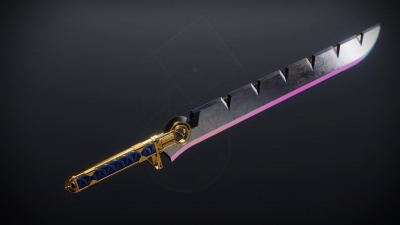 Related Links
---