Aeon Swift
From Destiny 2 Wiki
Aeon Swift are Exotic Hunter Gauntlets.
Perks
Intrinsic
Aeon Energy - Throwing grenades grants the following to nearby Aeon Cult allies:

Grenade energy to Warlocks
Melee energy to Titans
Dodge energy to Hunters

Other allies receive a fraction of the shared energy.
Mods
Notes
Aeon Energy

While within range of another player wearing Aeon Safe, Aeon Swift or Aeon Soul, the round protrusions on both players' pairs of Gauntlets will produce blue spines to indicate the effect range.
Lore
[
(we followed [the Path) crumbled beneath
(our feet] became [one mind) can absorb
(the truth] is that Osiris
understands [nothing) can describe the
joy of shared (thought] you knew what
they were didn't [you) haven't lived
as they (do] you wish to find [your future)
is (predetermined] individuals will never
find [answers) lie in forbidden (places]
bound by [shared dreams) will reveal
(your nature]
is to [destroy)
Images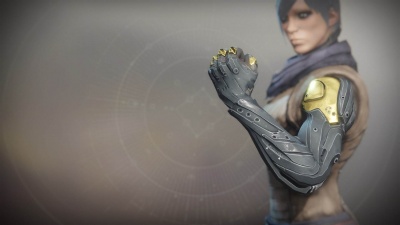 ---