Eternity (Map)
From Destiny 2 Wiki
See also: Eternity
Eternity is a PvP Map. It was removed from the game and added to the Destiny Content Vault with the release of Beyond Light in the Season of the Hunt. It was later unvaulted in the Season of the Risen.
Overview
Game Types:
Cliff
Cliff is an area on the west side of the map. It is an initial spawn location from which you can go left to Cube or right to Gates
Bath is right above the Cliff and serves as an alternate route to Cube.
Gates
Fork is a narrow passage connecting Gates to the Temple and Pass.
Pool
Cube is a great location to fall back to and can be used to throw nasty grenades toward the Pool or Fork.
Chutes is right above the Pool. It provides enough coverage and lets you regenerate your health.
Key Hole is tucked in the northwest corner and contains a Charge point.
Cut serves as a quick shortcut from Pool and Key Hole to Temple. Taking control of this area is very important if you wish to win a game of Charge.
Back
Back is a big open area on the east side of Eternity. It contains a second spawn location in the southeast corner.
Temple
Temple is in the middle of the map and is an important location if you are playing Charge. West from the temple, you will also find a Countdown point of interest. Both of these make it a high-traffic area.
Pass is a narrow corridor that connects Temple with Fork and Back.
Beach
South part of Eternity is reserved for the Beach. It provides a lot of covers and is a good flanking position, as the Temple is quite close.
Strategy
Make sure to buddy up with another member and hunt down the same opponents. Never flank alone.
Eternity offers many close-range fights, so you should use Power ammo to gain an advantage.
For loadout, we advise picking up a good Auto Rifle and Scout Rifle such as ScatheLocke and The End.
If you want to play defense, split up into 2 teams and hold a position in Key Hole and Temple.
If you are playing aggressively, 3 players should move to Key Hole, and 1 to Temple, who should serve as a scout and report movement.
actively communicate with your fireteam to set up a good flank.
Map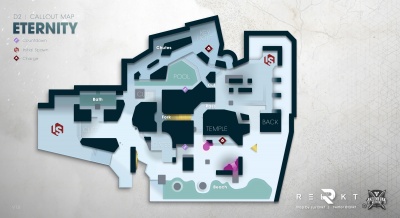 Patch History
References