Triumphs
From Destiny 2 Wiki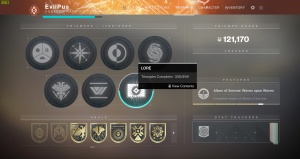 Triumphs are records of the player's achievements in Destiny 2. They can be related to characters, specific destinations, activities, lore discoveries, and more.
Overview
The player receives a Triumph immediately upon meeting its conditions. A notification shows up on their screen, and the related category, section and the new entry is marked with a plus icon and flashes white in the Triumphs menu, until the Triumph is manually claimed. Claiming a Triumph gives the player a specified amount of points, and the sum of these points is displayed in the Triumphs menu as the player's Triumph score. Some of the Triumphs have additional rewards, which are obtained upon claiming the Triumph. They are marked with a cube icon and the reward can be previewed while hovering over the Triumph.
Sometimes a single Triumph is separated into several smaller steps, each of them can be claimed and usually gives points. Some Triumphs or sections are secret, they contain question marks or just state that the Triumph is a secret until obtained. Some Triumphs are not displayed at all. Most of the time these are not obtainable, due to being time-limited, obsolete or something that is carried over from Destiny.
A single of the incomplete Triumphs can be tracked, which displays it on the Triumphs menu, and one of the incomplete Triumphs is featured in the menu until obtained.
Triumphs are separated into seven categories, which are further divided into tabs and sections. Some of the Triumphs are also grouped into Seals. Seals follow a certain theme (lore, raid, expansion or season) and reward the player with a specific title upon completion. The title can be set and removed while inspecting the Seal. The selected one is displayed under a player's name while roaming, and at the bottom of the character menu or inspection screen, as well.
The Triumphs menu also houses Stat Trackers. These contain the player's statistics which can be displayed on certain Emblems.
Categories
Seals
Notes
When the player advances to a quest step that requires a Triumph that they have already claimed, they have to relog on this character to progress the quest.
There are two Seals in the game files which are not implemented and cannot be obtained:

PvP Seasonal — Be among the first to reach the top PvP rank in a season.
Last Wish: World's First — Be among the first to beat raid "Last Wish."

The achievement/trophy "Legends Grow", which is awarded for a Triumph score of 5000, can only be unlocked by owning Forsaken.
The achievement/trophy "Seal the Deal", which is awarded for completing a Triumph Seal, can only be unlocked by owning Forsaken and obtaining one of the following Seals:

Destinations;
Gambit;
Crucible;
Lore;
The Dreaming City;
Raids.