Getaway Artist
From Destiny 2 Wiki
Acquisition
Exotic Engram
May rarely be obtained upon completion of any challenge or dropped from defeated enemies.
Xûr
Occasionally sells this weapon in exchange for 23 Legendary Shards.
Getaway Artist is an Exotic Gauntlets.


Perks
Intrinsic
Dynamic Duo - Hold to convert your Arc Grenade into a supercharged Arc Soul. The Arc Soul functions as an autonomous turret.
Mods
Notes
Dynamic Duo
Lore
If Thalia is lightning, Ayrin is thunder. You hear him coming, and he likes it that way. He's got a kitbashed heavy bomber that he pulled out of a trash fire. The engine goes THUT-THUT-THUT-THUT, just these big, stupid-sounding percussive booms, and it's like all monsters, man, the noise this thing makes can stop your blood cold.
So. Otto and I load the supplies into the back, and Thalia hops into the passenger seat.
The chumps that run out to stop us are babies. That's the kicker with Warlords—other than ours, there's not a Ghost in sight here. Just civilians who can barely hold their guns without wetting their pants, who can't aim worth a damn, who stick their necks out for the bad guys with eternal life. Real geniuses.
Boo-hoo.
Guess what? We got hungry, too. We starved, too. So when there was food, we took it, and if the Warlords put cannon fodder in our way to slow us down, that wasn't my fault. Wasn't our fault.
Anyway, Ayrin. He stands up in the open-roof cockpit and whoops, and the little devil on his shoulder, a crackling ball of Arc energy, spits bullets behind him. Mows down the idiots as they run straight into the line of fire, like lemmings. And Ayrin doesn't need to shoot anything himself, but he does. For fun.
When he gets enough target practice, and Otto and I are on board, he lets his little blue buddy handle the rest, and he tears out of there like a bat out of hell.
See? We were a well-oiled machine. A perfect team. We could've kept on like that for centuries.
Images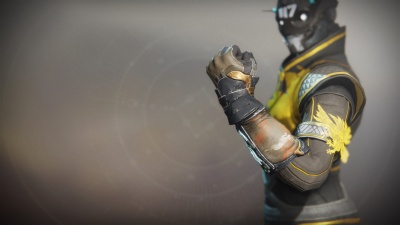 ---