Kairos Function Robes
From Destiny 2 Wiki
Kairos Function Robes is Legendary Chest Armor.
Perks
Intrinsic
Trait
Mods
Acquisition
This item can be obtained randomly from Lighthouse Engrams or bought directly from Brother Vance.
Notes
The default shader for this armor piece appears to be identical to the Kairos Black shader.
Lore
Physically, I am beneath the surface of Mercury. That is what Sagira's sensors say. The Vex hollowed out the planet, replaced its molten heart with cold right angles.
But that is not what I see.
I see infinity.
An infinity of possible worlds, so perfectly simulated as to be indistinguishable from the experiences I once called "reality." I can touch them, taste them, pass lifetimes in them! They grow within this machine like fruit upon a tree—no, a forest of trees, its fractal expansion nigh unmeasurable.
I said that to Sagira and she replied, "Sounds like a challenge."
This Ghost of mine knows me too well.
It strikes me now that I could find in this Infinite Forest a reality in which Ikora accompanied me into its endless mysteries.
What an awful, destructive machine this is.
I must know everything about it.
Images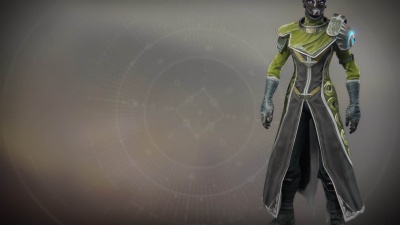 Related Links
Kairos Function Warlock Armor Set
---