Armor Synthesis
From Destiny 2 Wiki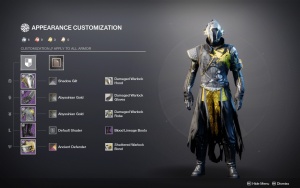 Armor Synthesis
is a system which allows players to turn collected armor appearances into ornaments.
It is unlocked by completing the Armor Synthesis Introduction and Tying It All Together quests.
Overview
Season of the Splicer introduced the Appearance Customization menu, where players can apply shaders and ornaments to their equipped armor set.
While browsing through ornaments, the player will see every appearance they have unlocked in collections. By consuming a class-appropriate Synthweave the player can turn one appearance into a universal ornament, which can be applied to any Legendary piece of armor for that slot. There are four types of Synthweave: Synthweave Plate is used by Titans, Synthweave Strap is used by Hunters, Synthweave Bolt is for Warlocks, and Synthweave Template can be used by any class. The player can hold no more than 15 Synthweaves for each class, but there is no restriction for the universal ones.
Synthweave is obtained through a convoluted process. First, the player has to collect 150 Synthstrand by defeating enemies, but the drop is timegated and the player receives 1 Synthstrand approximately every 2 minutes no matter how many enemies they defeat.
Then, the player has to buy a Threader bounty from Ada-1. She sells random bounties, but the player can choose where to complete one: in strikes, Crucible, Gambit, Destinations, Raid/Dungeon. Each bounty costs 150 Synthstrand, the player can hold no more than one Threader bounty at a time, and they can complete no more than 10 bounties per class during a single season. Abandoning a bounty will refund a small amount of Synthstrand wasted on it.
Each bounty rewards the player with 100 Synthcord, which can then be deposited into the Loom behind Ada to create a single Synthweave. There are three types of Synthcord: Rigid Synthcord is used to create Synthweave Plates, Sleek Synthcord is used for Synthweave Straps, and Plush Synthcord is converted into Synthweave Bolts.
Synthweave Templates can be bought at the Eververse for
Silver. One Template is sold for
300, a package of five Templates is sold for
1000.
Restrictions
Armor ornaments can be created from most armor appearances except for Exotic armor. Universal armor ornaments can be applied only to Legendary armor pieces.
Due to technical constraints, some armor ornaments cannot be used universally, but can still be applied to their associated pieces of armor. These exceptions include:
On the Offense Set
Take Shelter Set
Xenos Shore Set
Steadfast Set
Ankaa Friend Set
Phoenix Battle Set
Soaring Sword Set
Fire-Forged Set
Iron Pledge Set
Warmind Iron Banner Set
Extinction Orbit Set
Sovereign Lion Set
War Simulator Set
Arach's Chosen Set
Executor's Will Set
Superior's Vision Set
Eater of Worlds Ornament Set
Praetorian Ornament Set
Trials of the Nine Ornament Set
Prestige Trials of the Nine Ornament Set